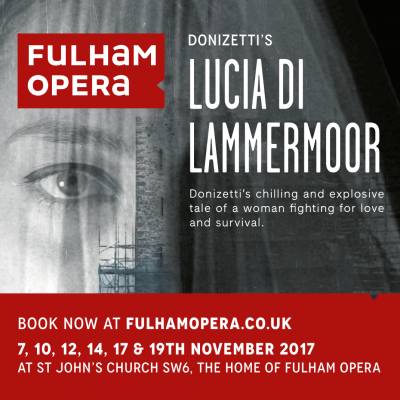 What happens when your love is what destroys you?
Lucia's forbidden infatuation with Edgardo, sworn enemy of her brother, is her only chance for liberation... or damnation.
Witness Fulham Opera's impassioned contemporary production, in which the ghosts of the past make a frightful and unwelcome return. Donizetti's heroine defies adversity in all its forms as she endures a relentless struggle for love, survival and identity.
Michael Thrift conducts Donizetti's masterful score to director Jim Manganello and designer Anna Yates' haunting re-imagining of Walter Scott's tragic and timeless tale with Fulham Opera's sparkling cast and orchestra.
Lucia di Lammermoor
7, 10, 12, 14, 17 & 19 Nov, 2017
Sung in Italian with English Surtitles
Lucia - Nicola Said
Edgardo - Alberto Sousa
Enrico - Louis Hurst | Ashley Mercer (10 & 17 Nov)
Alisa - Rebekah Jones
Arturo - Tom Morss | John Wood (17 Nov)
Raimondo - Simon Grange
Normanno - Damien Noyce

Conducted by Michael Thrift and Johann Stuckenbruck (17 Nov).
Directed by Jim Manganello.
Design by Anna Yates.
Lighting Design by Tom Mannings.
St John's Church
North End Road
Fulham, SW6 1PB
Orchestral arrangement by Francis Griffin of www.ReducedOperaOrchestrations.info
Made possible with the support of The Directors Charitable Foundation.